Derek Wikarski – Lead vocals, harmonica, bodhran, mandolin
Paul Wikarski – Guitar, banjo, fiddle, bodhran, vocals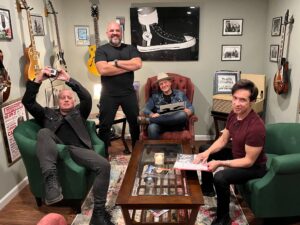 ​Here's Brother Crowe; a 4-piece Celtic Roots Rock powerhouse ready to tear up the stage! Brother Crowe is a gritty, Bluegrass-leaning Celtic Roots Rock Band out of Detroit, who focuses on original music while staying true to their Celtic Roots. Their music (by Brother Crowe and
The Kreellers) is available on Pandora, Spotify, iTunes, Amazon, and more.
"Derek will fine-tune some of the melodies and the lyrics a little bit—he's the one singing them. There are a few things he'll truncate or maybe he'll change a phrase up, add a half verse or a full verse from what I originally wrote. The songs definitely go through an element where we pound them into shape." ~ Paul Wikarski
"There's an element of spontaneity at festivals—we really engage the crowd. It's really fun that we don't ever play the same stuff twice when we do the gigs. People love it and we love it." ~ Derek Wikarski