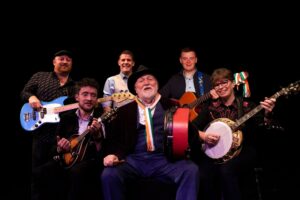 Derek Warfield's 50 years of experience coupled with the talent and energy of The Young Wolfe Tones brings the old tradition of Irish balladry into a new age. The story of Ireland is transmitted in their music and song and illuminated by the outstanding musicianship of three wonderful ambassadors of a new generation of traditional players. Derek Warfield & The Young Wolfe Tones deliver Ireland's traditional music and folk songs with an energy and skill that shows the quality of contemporaries within that tradition. The patriotic spirit of Irish music carried through the 1970s, 1980s and 1990s by the Wolfe Tones now marches on in the
dynamic sound of Derek Warfield & The Young Wolfe Tones.
Derek Warfield & The Young Wolfe Tones are thrilled to be celebrating 14 years On the One Road and are delighted to be celebrating it in style with the release of a new CD "Let The Free
Birds Fly" released in June 2022, and performances all over America including some great Irish American Festivals & Venues.