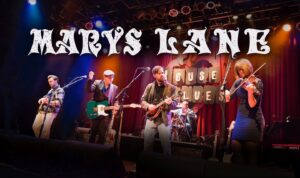 Marys Lane is an Irish-American rock band, based in Cleveland, Ohio. The origin of their name comes from a long-standing quip among the descendants of Achill Island, County Mayo, Ireland. Marys Lane is a place where multiple widowers, all named Mary, independently occupied the only homes on their street, which included Mulloy's grandmother.
Soon after forming, the band began playing traditional Irish favorites and bar-room covers locally to mostly positive feedback. However, a desire to implement original songs into their repertoire led to a new focus on recording and performing their own material, with contributions from every member of the band collectively.
After releasing two LP's, an EP, and numerous singles the band started receiving many accolades including being selected to Spotify's "Irish Folk: Jigs & Reels" official playlist and given the honor of being named their hometown's "Best Band" by Cleveland Magazine in 2016. They have since spread to performing for wider audiences by touring throughout the U.S. and internationally alike, including invitations to the Dublin Irish Festival and Grammy-award winning musician Matt Molloy's (The Chieftains) legendary pub in Ireland.