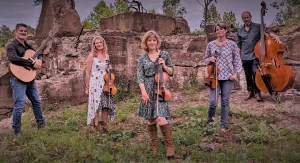 The Bow Tides is a powerhouse Celtic ensemble led by three Irish fiddlers—Ellery Klein, Jessie Burns, and Katie Grennan. These dynamic women are veterans of the stage and studio, with a collective 15 years as the fiddlers with the Irish-American supergroup Gaelic Storm.
In the summer of the pandemic 2020, the world over was feeling lost and in much need of connection, inspiration, and community. Jessie, Katie, and Ellery, located in three different states, received an invitation to create an online performance for the Spanish Peaks International Celtic Festival. They decided this was the perfect opportunity to join their mighty creative forces.
Grammy-nominated bassist Eric Thorin and guitarist Jeff Lindblade were enlisted to hold down the low end, and the ideas started flowing—and they haven't stopped. Drawing from decades of playing traditional Irish fiddle, bonded by their love of composition and rich harmonic arrangements, and a deeply creative calling, the five set to work. The Bow Tides was born and has been an unexpected silver lining—they haven't looked back since.