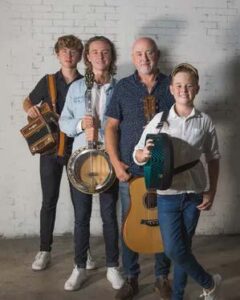 The Byrne Brothers, hailing from Donegal, Ireland, are a family band and Irish dancers who have garnered much success and recognition. Their achievements include winning the 2022 Young Artist Academy© Award for Outstanding Music Ensemble and being named Rising Stars of the Year 2021 and Best CD Cover of 2021 by American Celtic Radio Listeners for their album "Living the Dream."
The Byrne Brothers are known for their electrifying and high-energy performances that showcase traditional Irish music and world-class Irish dancing. Their music features both traditional and original tunes, as well as their unique style and energy. The band's lively jigs and reels highlight the exceptional musicianship of each member on their respective instruments. Along with their music, The Byrne Brothers' Irish dancing is performed with precision and flair. Their performances celebrate Irish culture and heritage, and audiences around the globe are captivated by their infectious humor, energy, and talent.
Grammy-nominated bassist Eric Thorin and guitarist Jeff Lindblade were enlisted to hold down the low end, and the ideas started flowing—and they haven't stopped. Drawing from decades of playing traditional Irish fiddle, bonded by their love of composition and rich harmonic arrangements, and a deeply creative calling, the five set to work. The Bow Tides was born and has been an unexpected silver lining—they haven't looked back since.